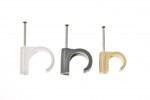 Kabelklemmen Unifix
De Uni-Fix kabelklem wordt gebruikt voor slagmontage van elektraleidingen en elektrakabels.
-Blijvende zeer hoge klemkracht.
-Slaat de beugel niet stuk of uit model.
-Klem is onbreekbaar (ook bij lage temperaturen).
-Extra lange onbreekbare stalen nagel.
-Extra stevige brede voet.
-Hittebestendigheid tot maar liefst 140 ˚C.
-Elektraleiding of elektrakabel verschuift niet door inwendige nokken.