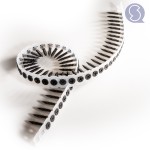 Collated drywall screws double bugle head PH
Our range of collated drywall screws are suitable to mount drywall panels on metal or wood structures. These screws have a fine thread, sharp point and a special double bugle head that ensures a perfect countersinking.
These screws are pre-assembled on a universal strip which adapts to collated screw guns from Makita, Bosch, DeWalt, Senco ...
| Article | Description | Drive | Material | Size | Unit | Quant./package |
| --- | --- | --- | --- | --- | --- | --- |
| 04.02.35025 | Collated drywall screw | PH2 | Black Phos. | 3,5x25mm | Box1000 | 10 |
| 04.02.35035 | Collated drywall screw | PH2 | Black Phos. | 3,5x35mm | Box1000 | 10 |
| 04.02.35045 | Collated drywall screw | PH2 | Black Phos. | 3,5x45mm | Box1000 | 10 |
| 04.02.35055 | Collated drywall screw | PH2 | Black Phos. | 3,5x55mm | Box1000 | 10 |